Hi there! I know it's been a while since my last update. I've been extremely busy in the past days. As I have a relatively short amount of time here in Australia, I'm trying to make the most out of it. Typing/uploading articles take a considerable amount of time, which I already don't have enough of. Don't worry, I do not give up on documenting my adventure, far from that actually! Without any additional wait, let me show you what happened to me in the last days here down under.
Still travelling with the Greyhound buses, I arrived in Rainbow Beach during the afternoon. I stayed at a hostel called Cool Dingos Resort. Cheap, has a hammock lounge area and an awesome swimming pool. Can't get any better than that!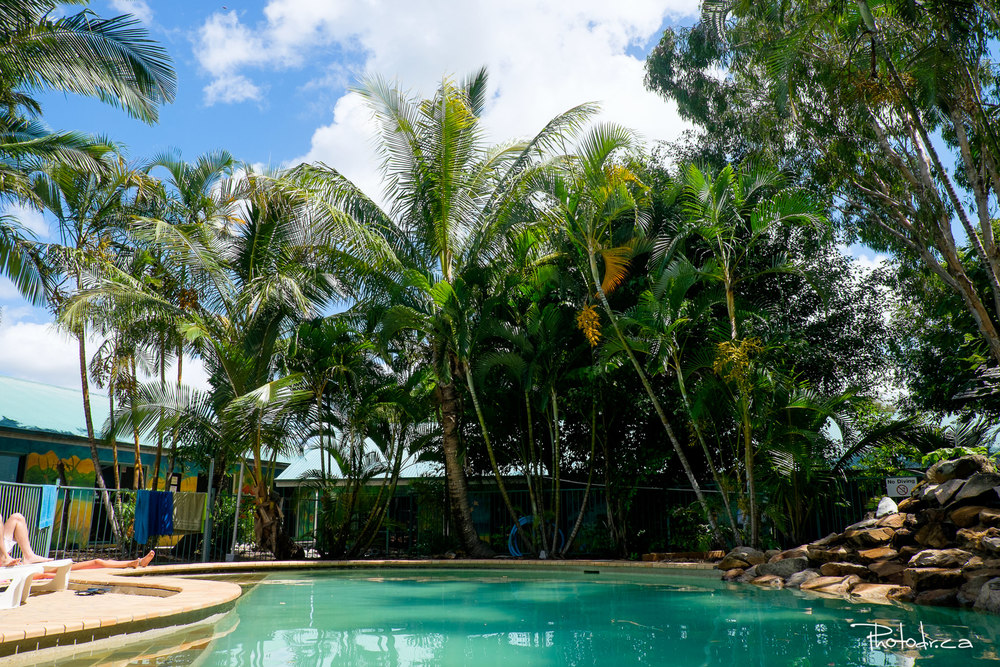 Later that same day, some new friends I met at the hostel and I went on walk to see Rainbow Beach's CARLAU sand blow. While a sand blow and a sand dune might look the same, they aren't exactly the same thing. A sand dune is mainly static, while a sand blow is constantly moving because of the wind. Some can move up to a couple meters every year. We spent a couple hours over there, mostly taking pictures and engaging interesting discussions.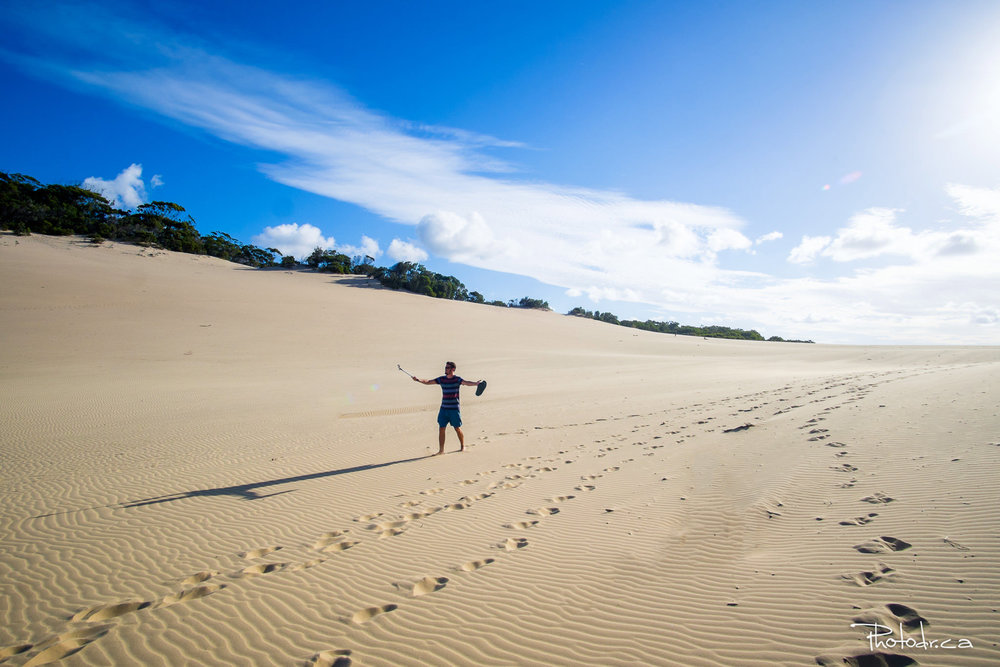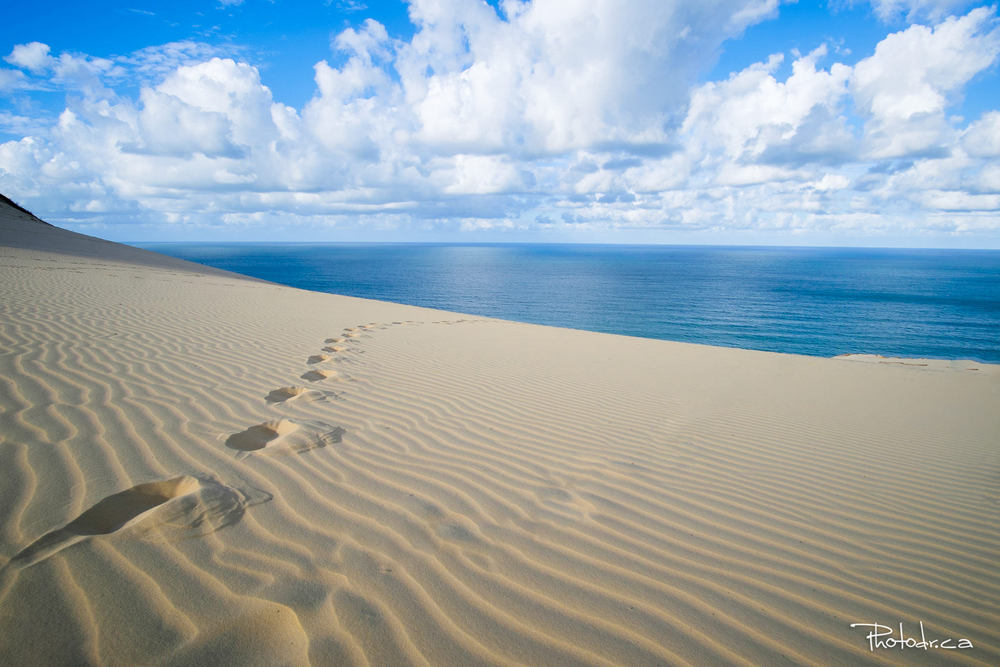 Those next pictures are definitely my favorite ones from the day, I really loved that coast line. Try to notice the different colors the sand has, that is the reason the town was named ''Rainbow Beach''.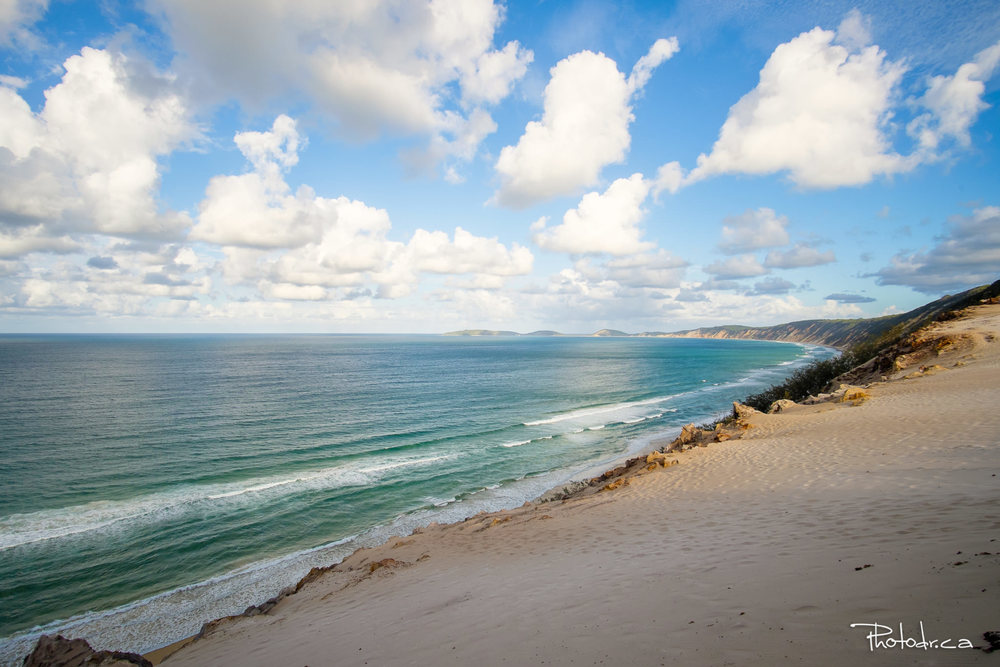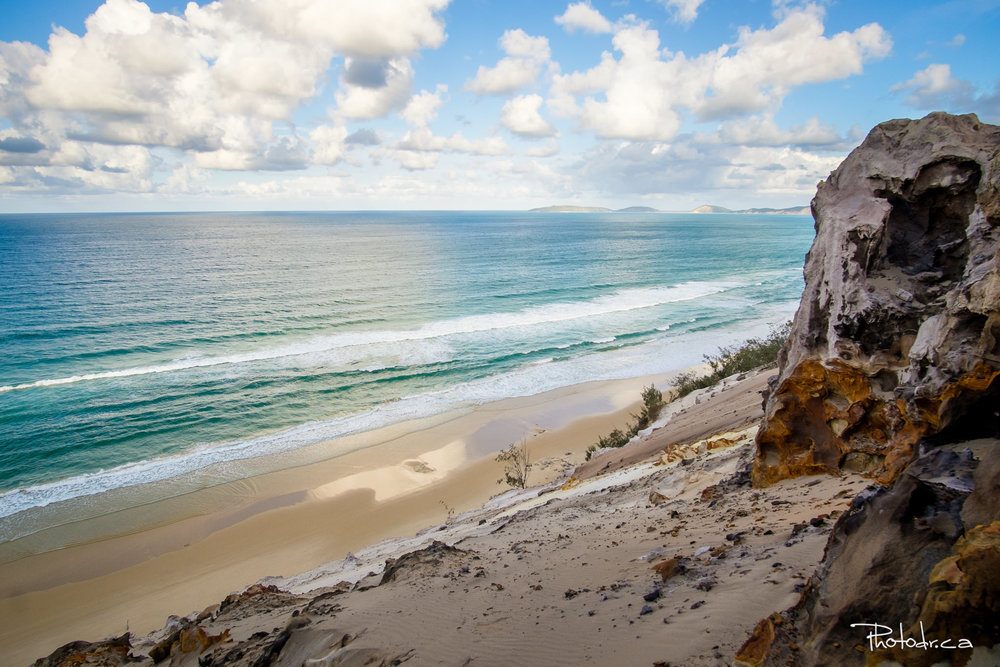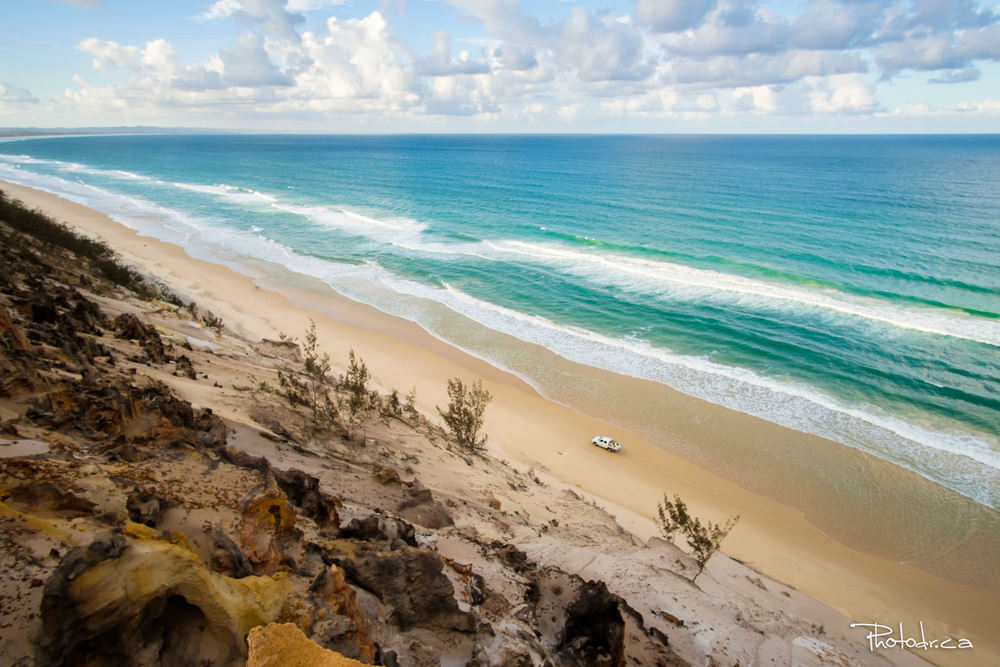 While I was walking on the way back to the hostel, I stopped for a couple of seconds. I looked around me and I realised that people actually live right here. For them, all that landscape is part of their routine, its normal stuff. For me/us travellers, it's awesome.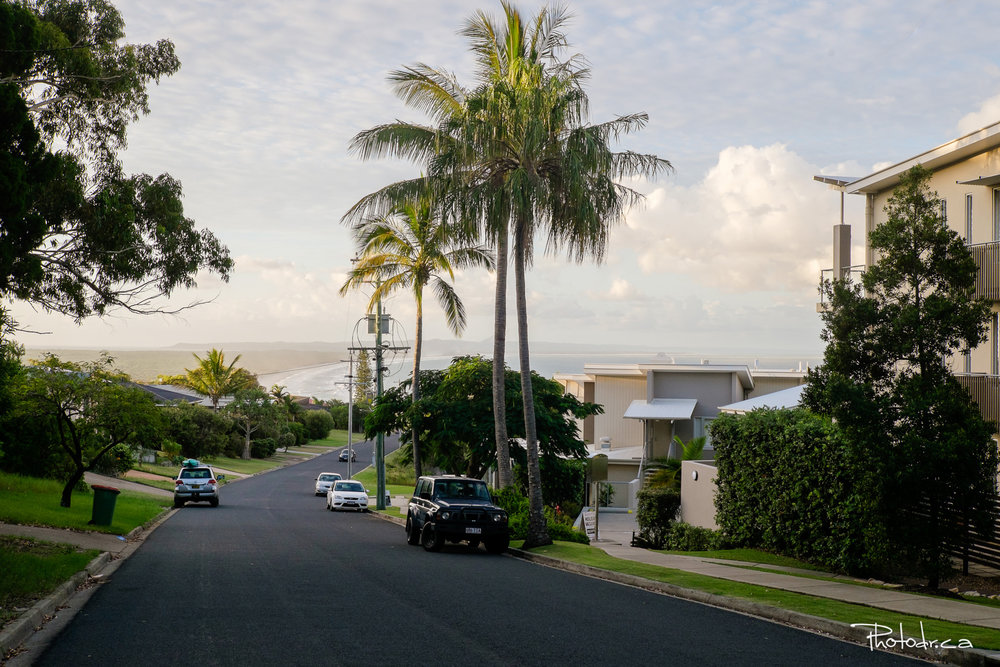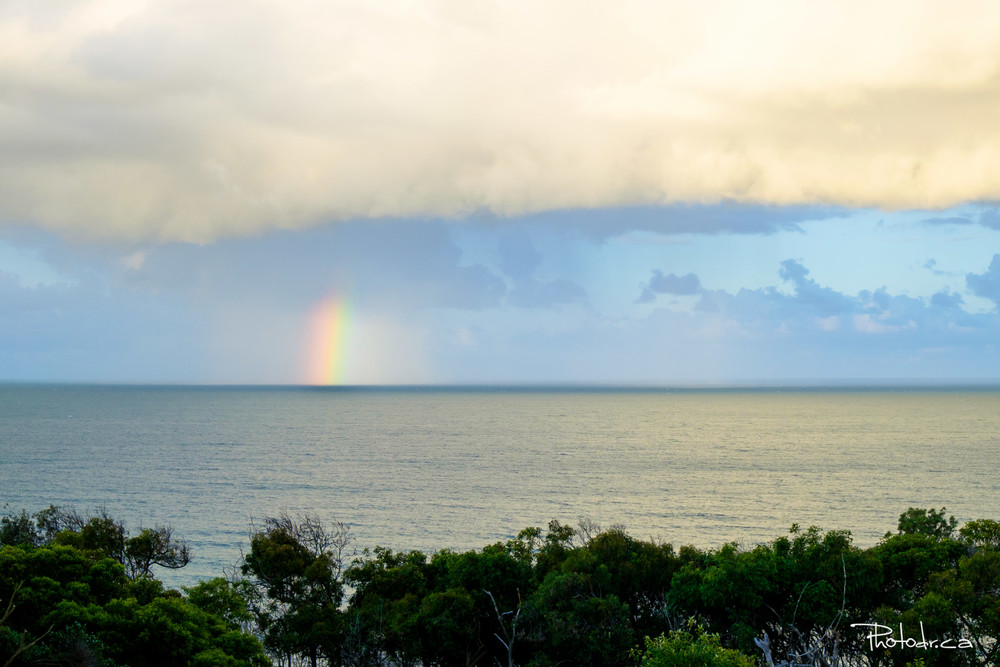 The next day I went on a trip with Dingo Fraser Island. I wrote a complete article about them HERE, I highly suggest you have a read at it! You will surely learn a lot about Fraser Island.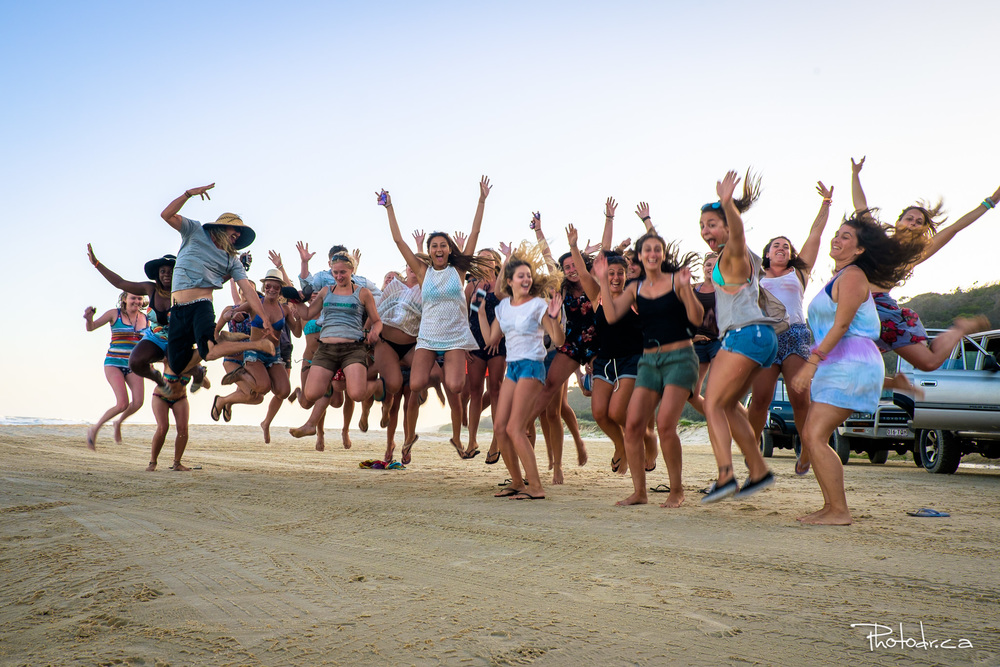 So you've read the article? Great! You can carry on reading now. I came back from that trip in the evening and went for a quick sunset picture session on the beach.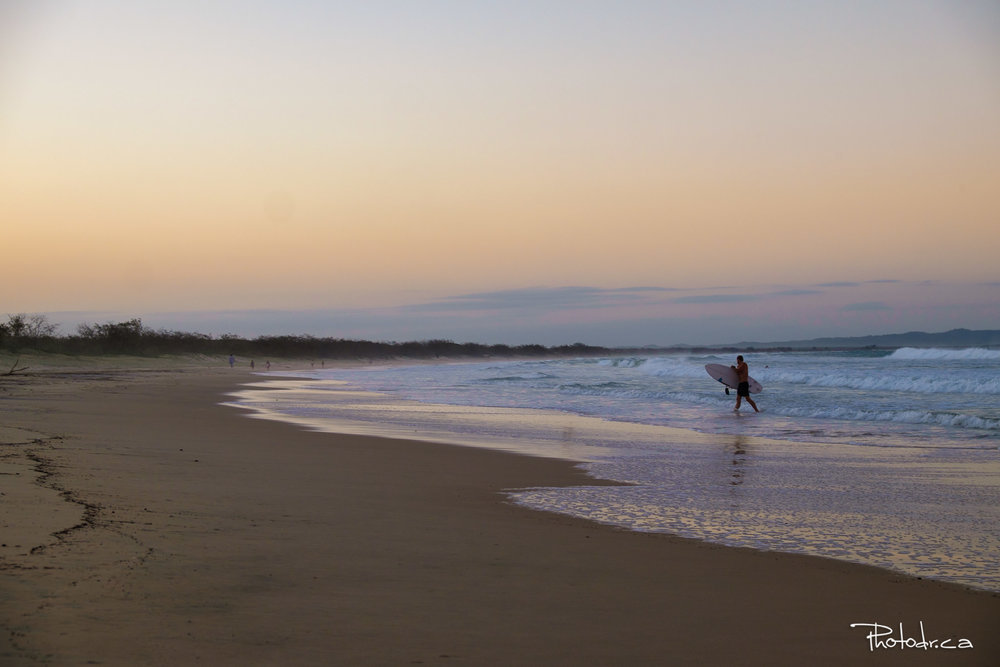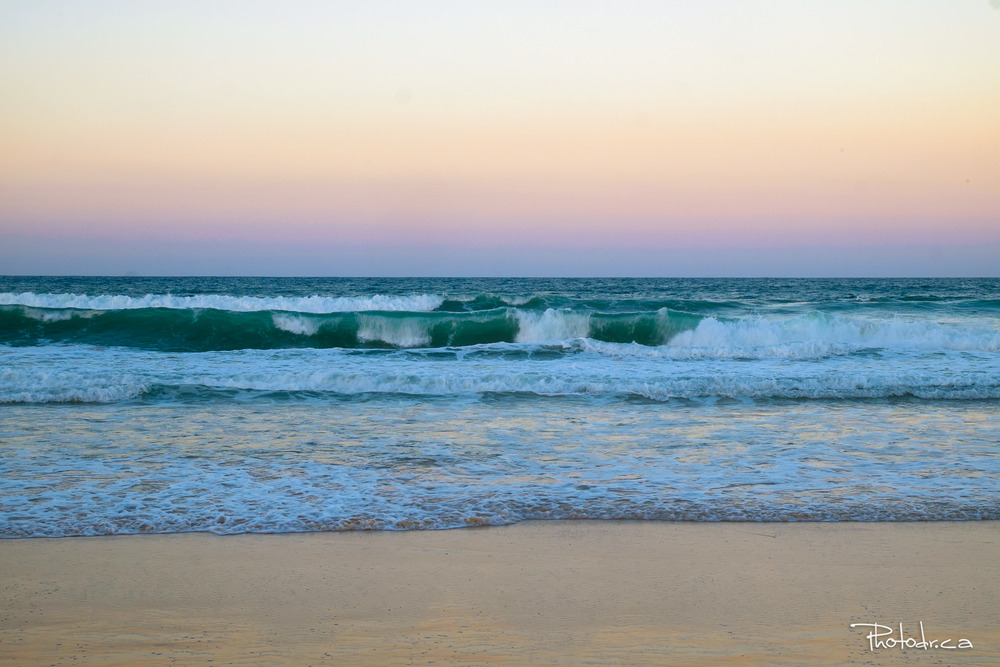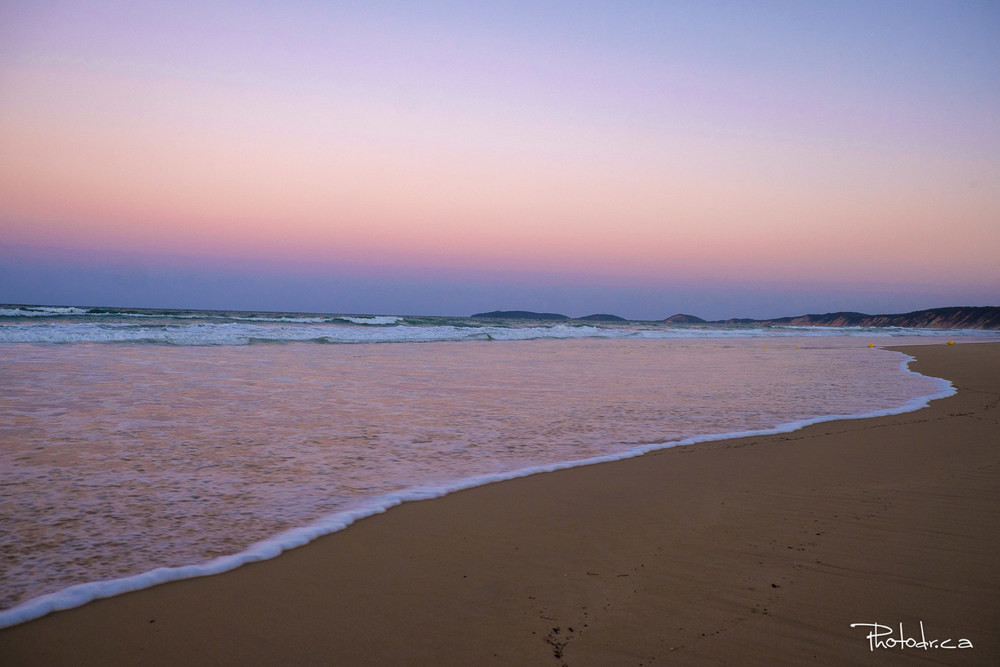 The following picture is one of my favorite pictures in my whole trip so far. It represents a lot to me. Getting stunning Milky Way pictures requires a lot of preparation. It has to be done in the right season (where it's core is above the horizon at night), there has to be very little to no moon at all, you have to be far away from cities/light pollution and lastly, the weather has to be perfect. Getting all those things perfectly aligned takes time. I've been waiting for that moment since the beginning of my trip in November, five months ago. It happened that night.
I went to sleep happy and proud.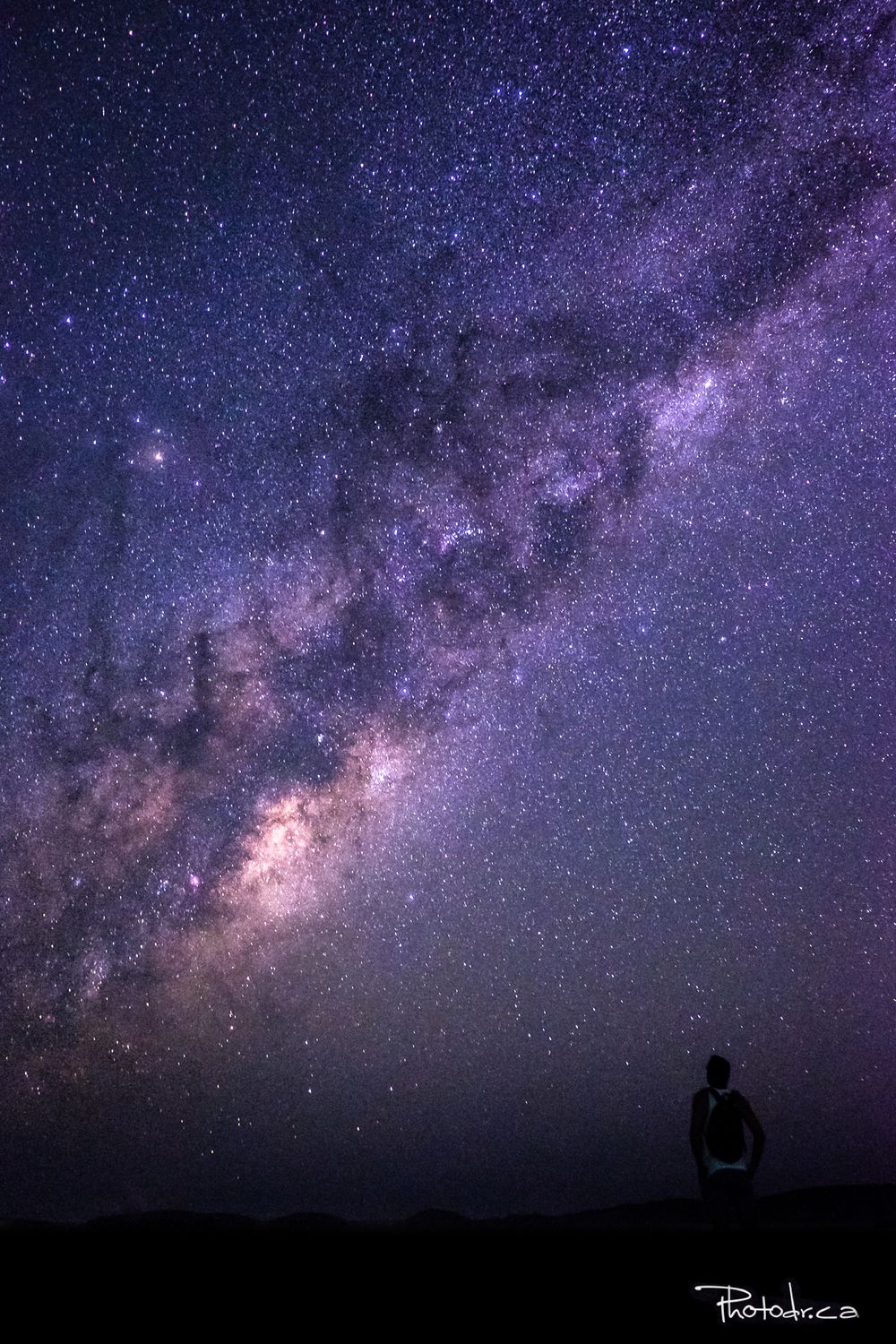 The next morning I woke up early and started a second tour to Fraser Island, this time with Cool Dingo Tour. We were a group of about 28 travellers, all on board that awesome pink 4×4 bus!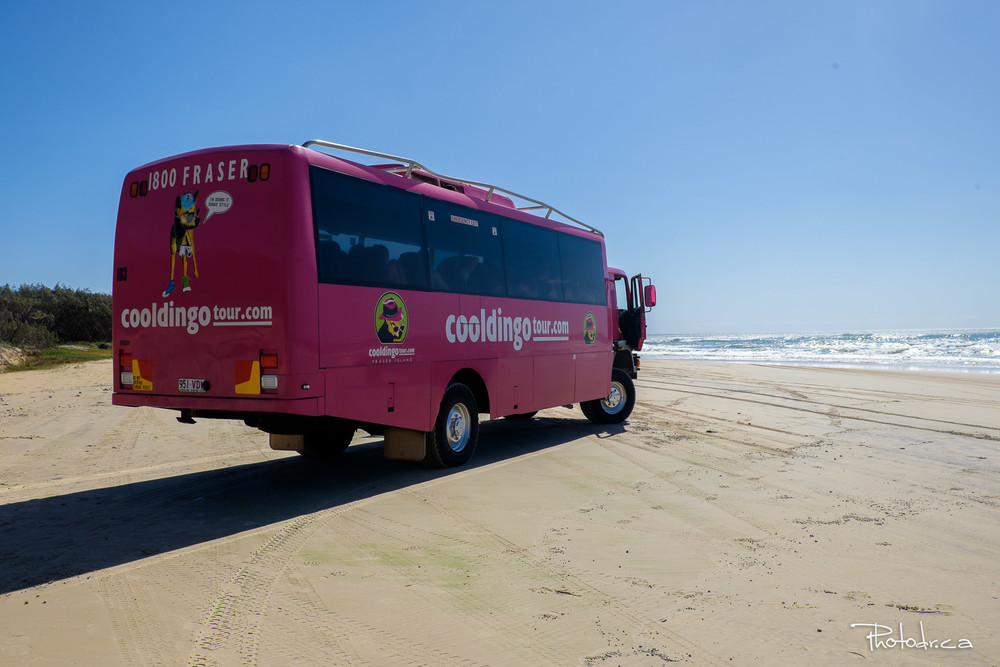 First stop? The stunning Makenzy lake.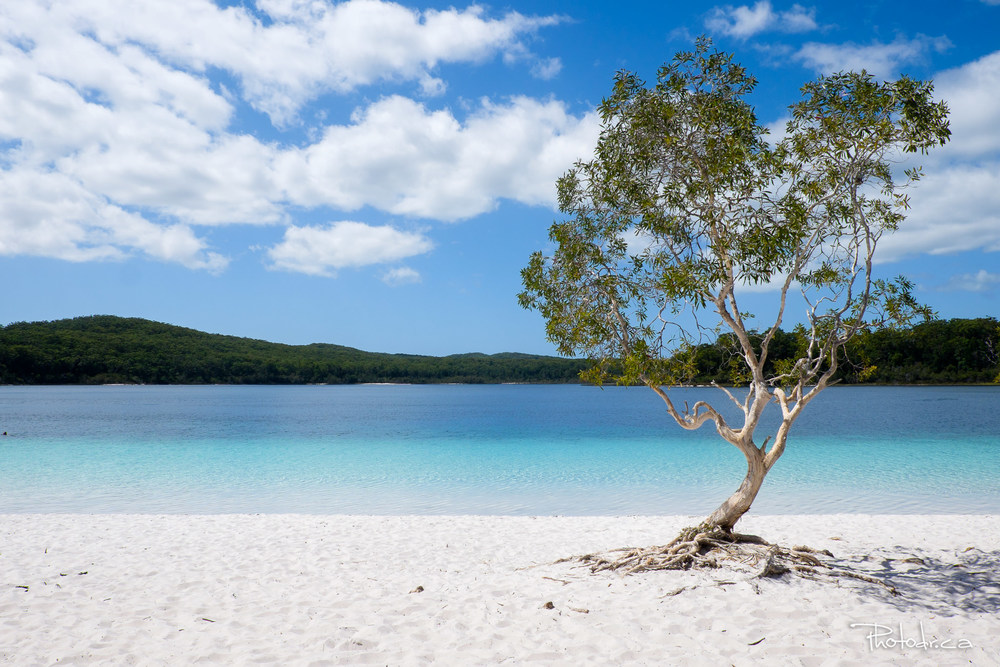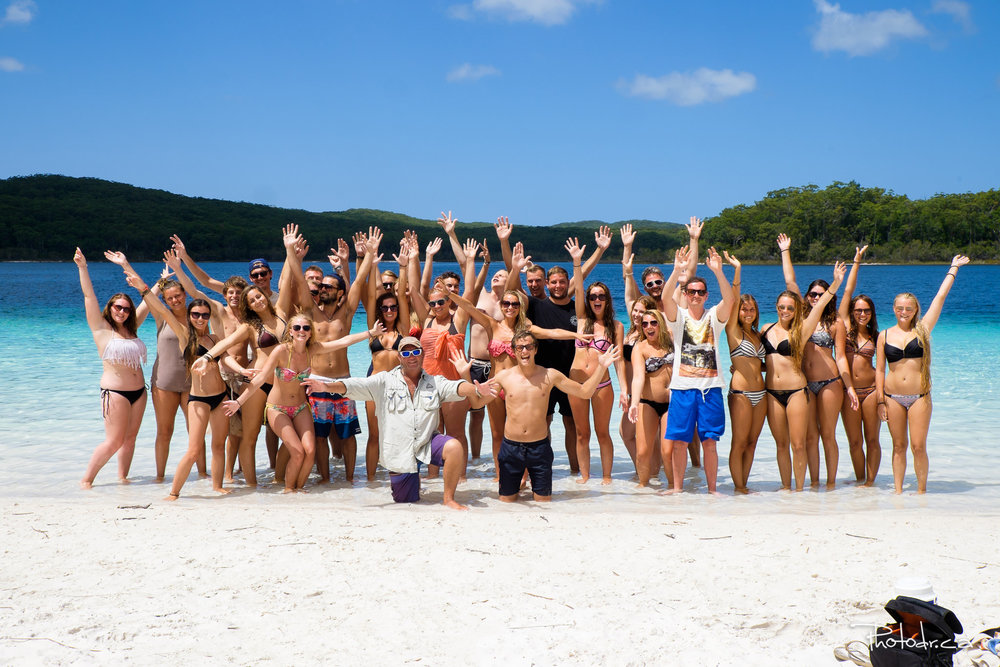 Wild iguana spotted somewhere in Fraser's forest!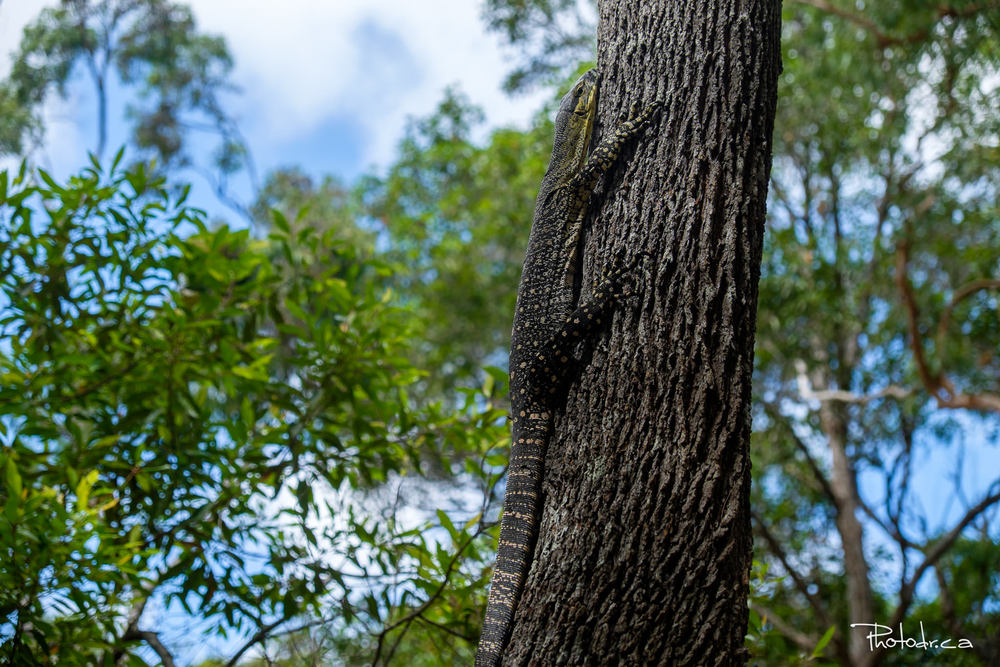 The next three pictures represent what you can expect from a tour on Fraser Island. Yes you see beautiful lakes, great beaches, but you also drive a lot through the forest. Fraser Island is consisted of 98% sand and it's the only place in the world where rainforest grows on sand.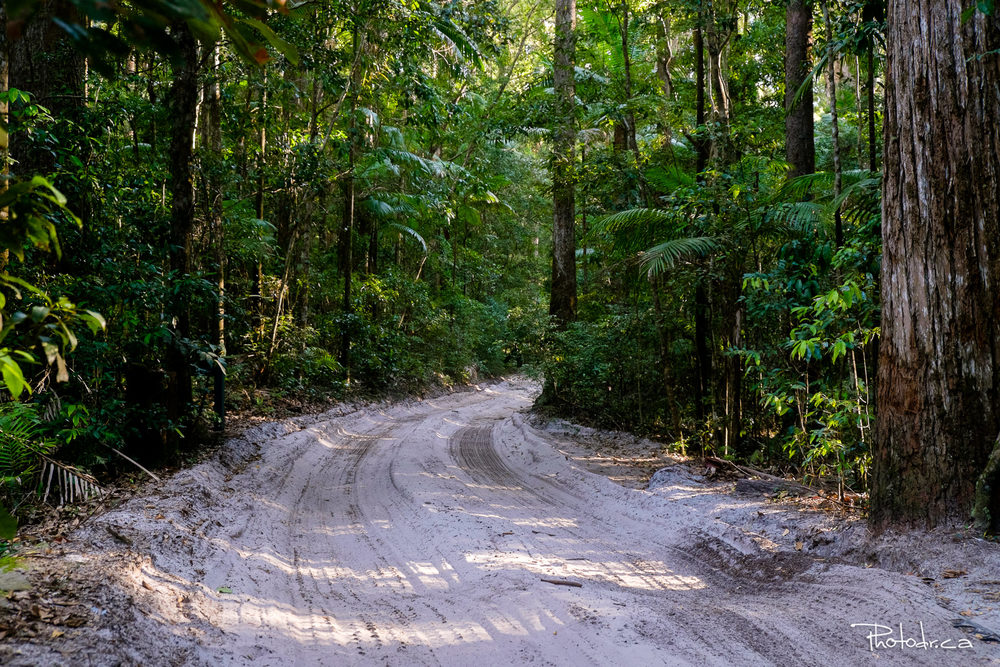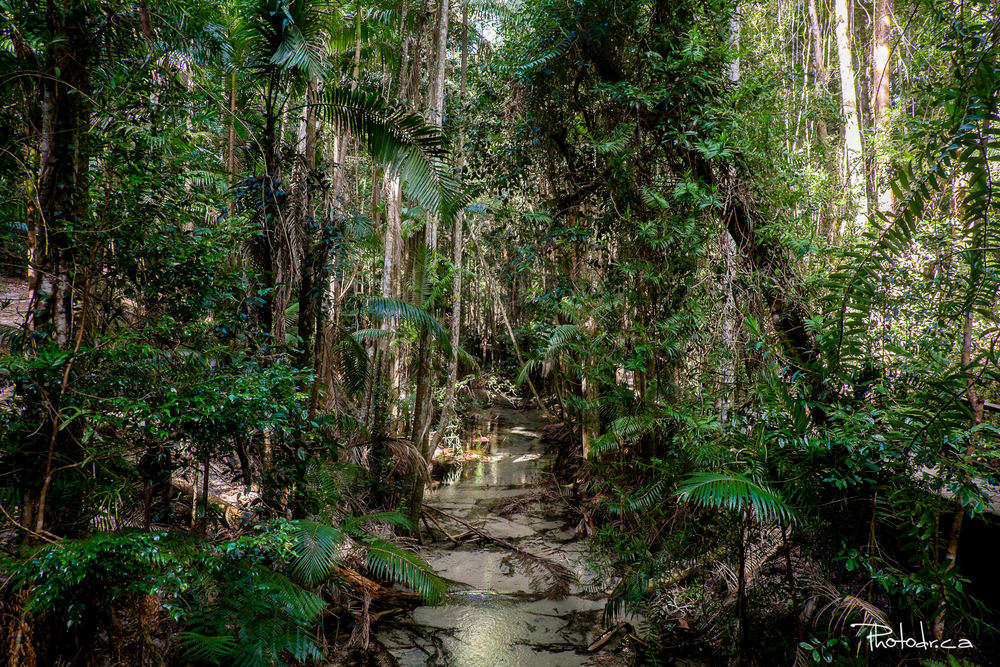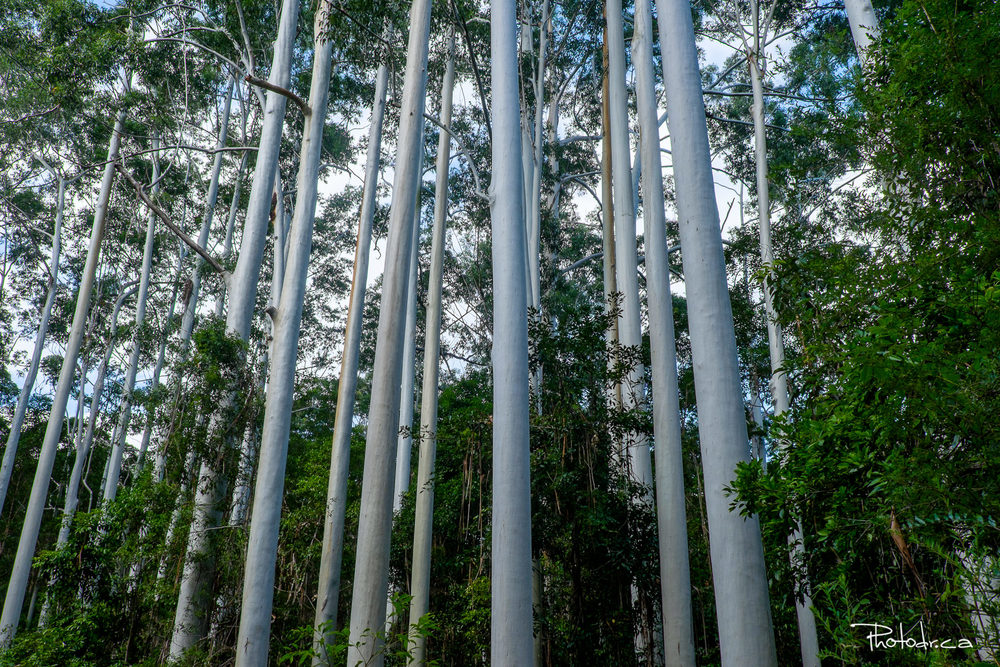 As with every night since the last two weeks, I went out to capture Milky Way pictures. There was a little bit of light pollution coming from the resort. The pictures didn't turn out as good as my previous ones.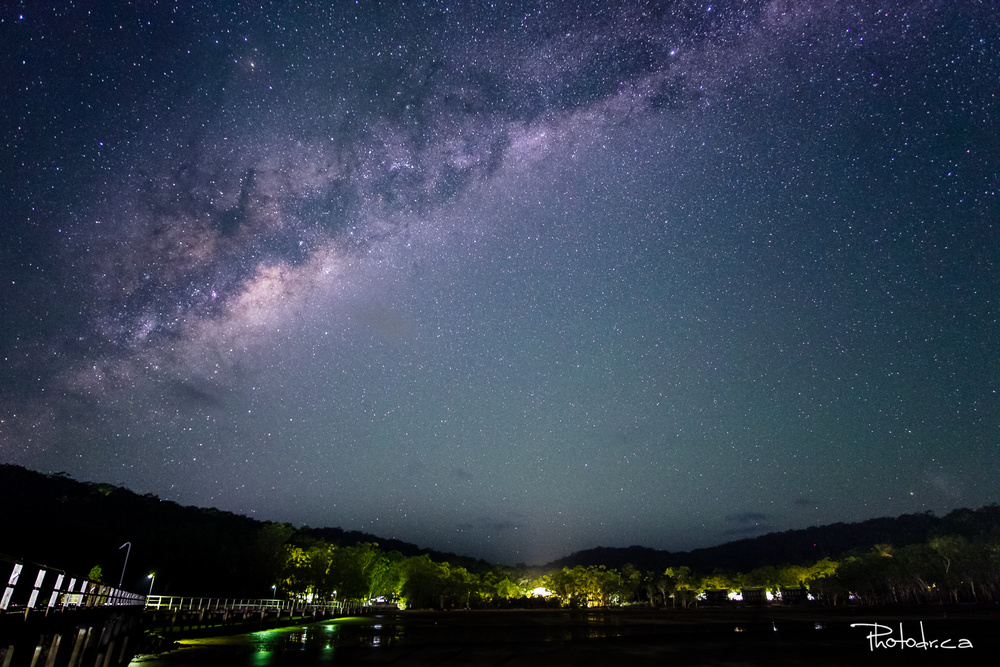 Slept for the night at the resort then the following day I treated myself with a nice gift. For 75$ I did a scenic flight above Fraser Island. Please note that those scenic flight pictures were shot through the plane's dirty windows.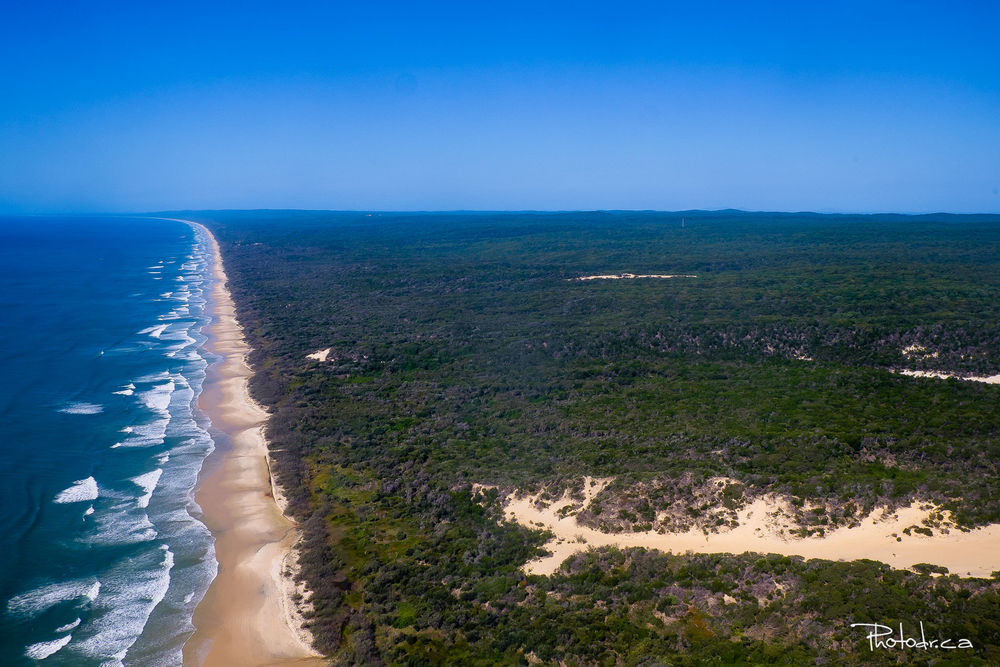 Next picture is Laky Waby. It used to be a river, but the sand blow eventually blocked the water from going out and it created the lake. This sand blow is moving at the rate of one meter every year.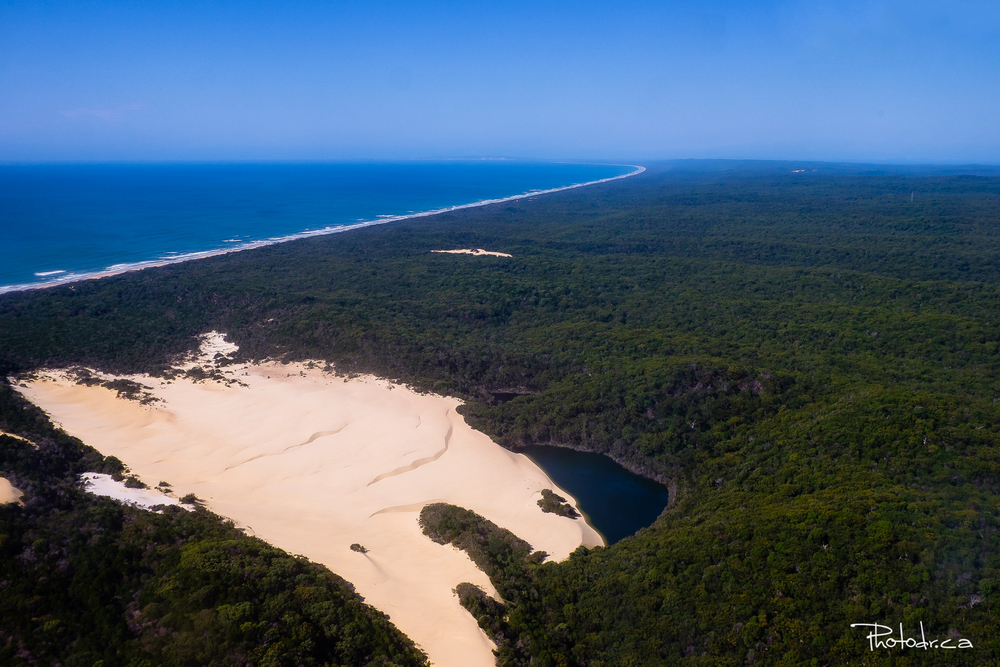 Here's Lake Makenzy as seen from above. If you look to it's left you can see its pure silica beaches and turquoise water.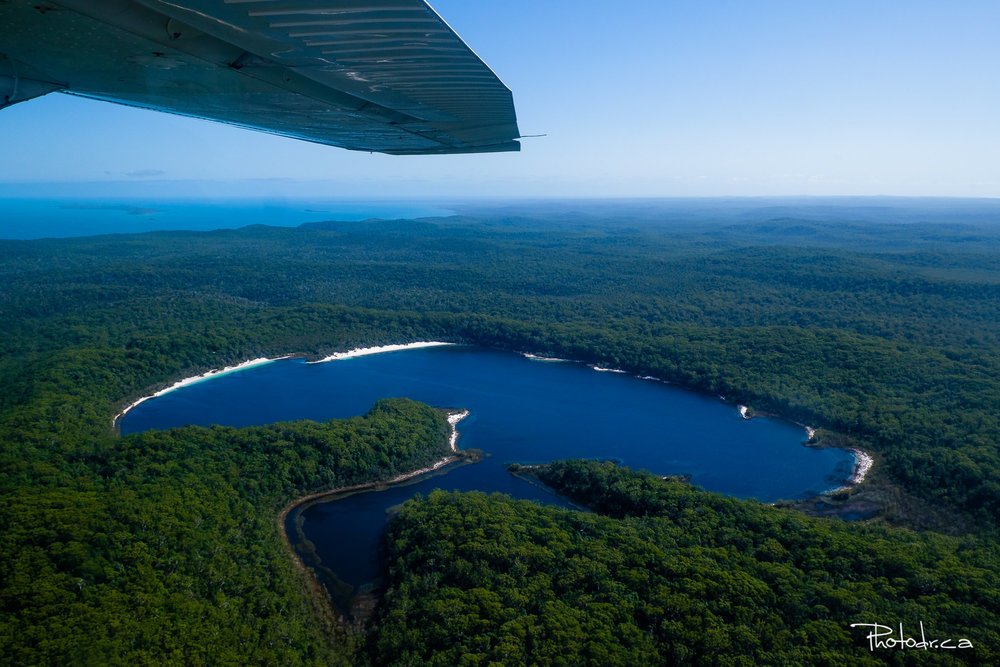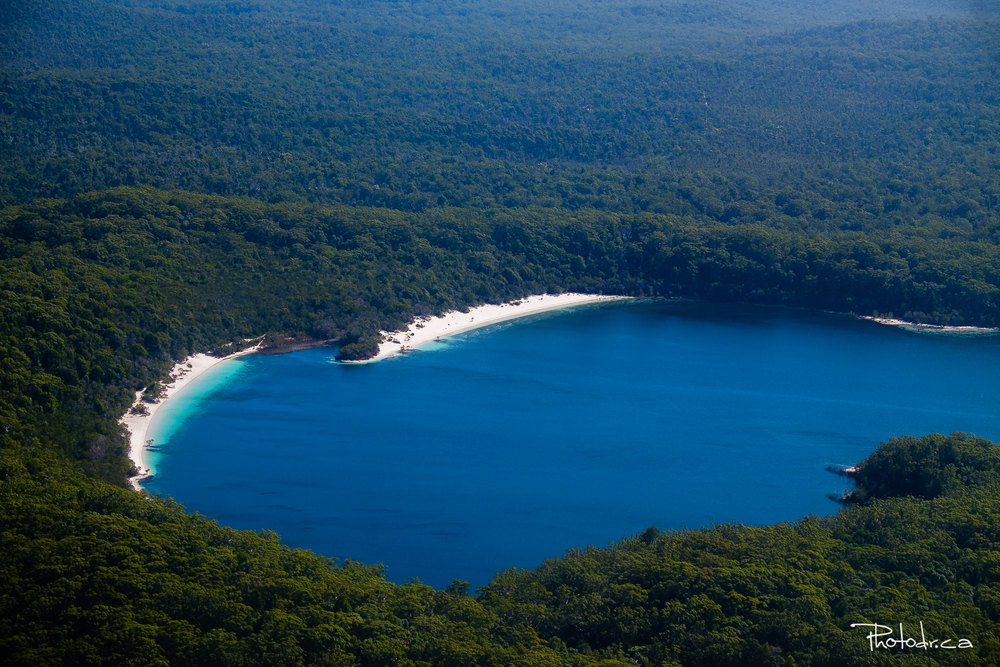 Last picture of the scenic flight, the landing strip! As you can see, we took off and landed right on the beach. What an awesome experience it was!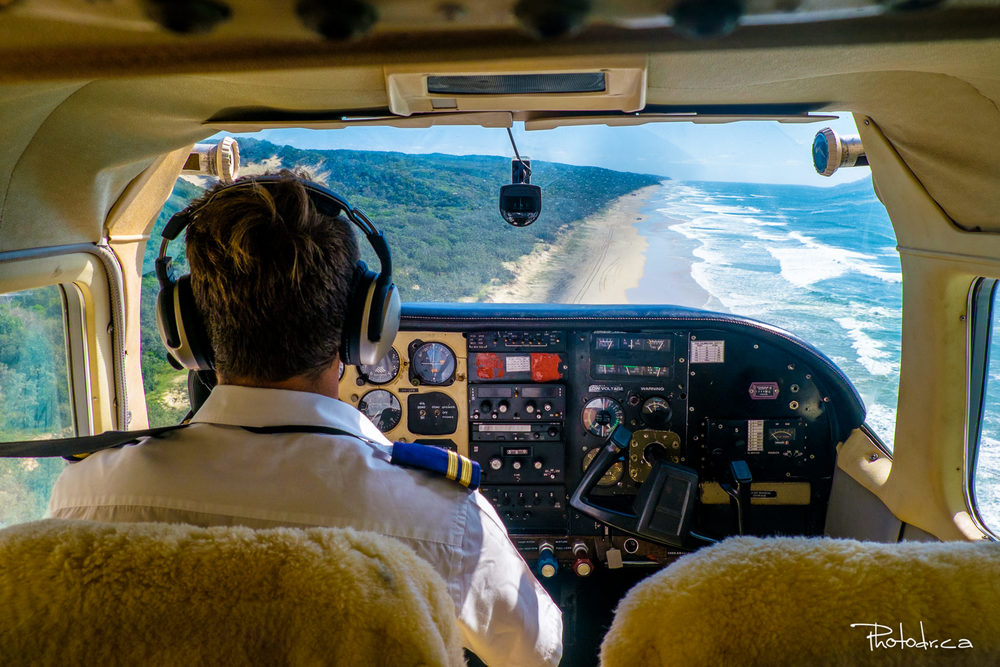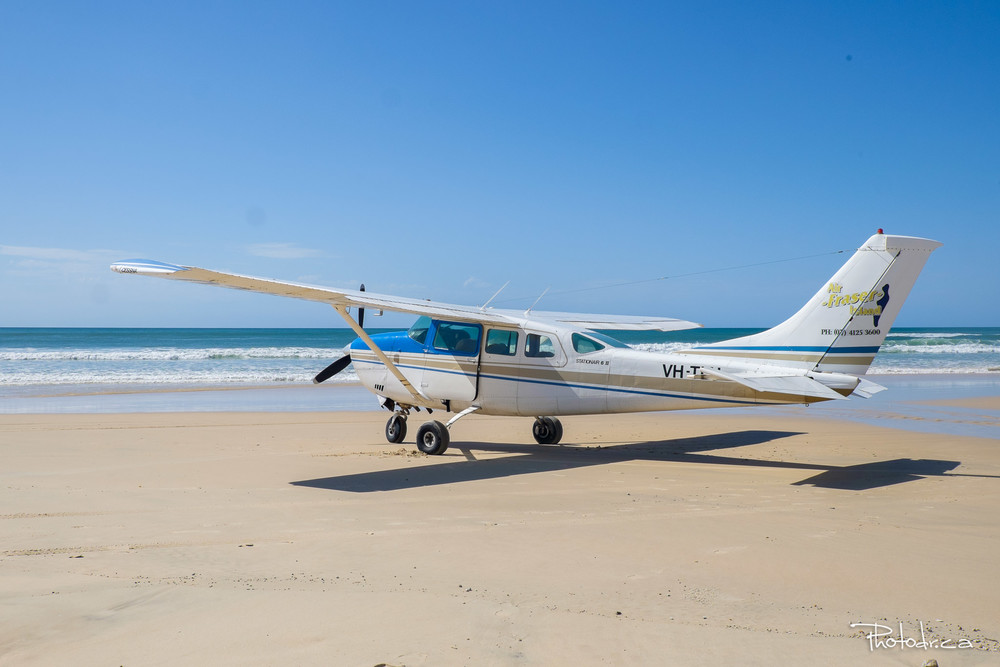 I slept at the resort for a second night then the following morning we started our last day by going to the Champagne Pools.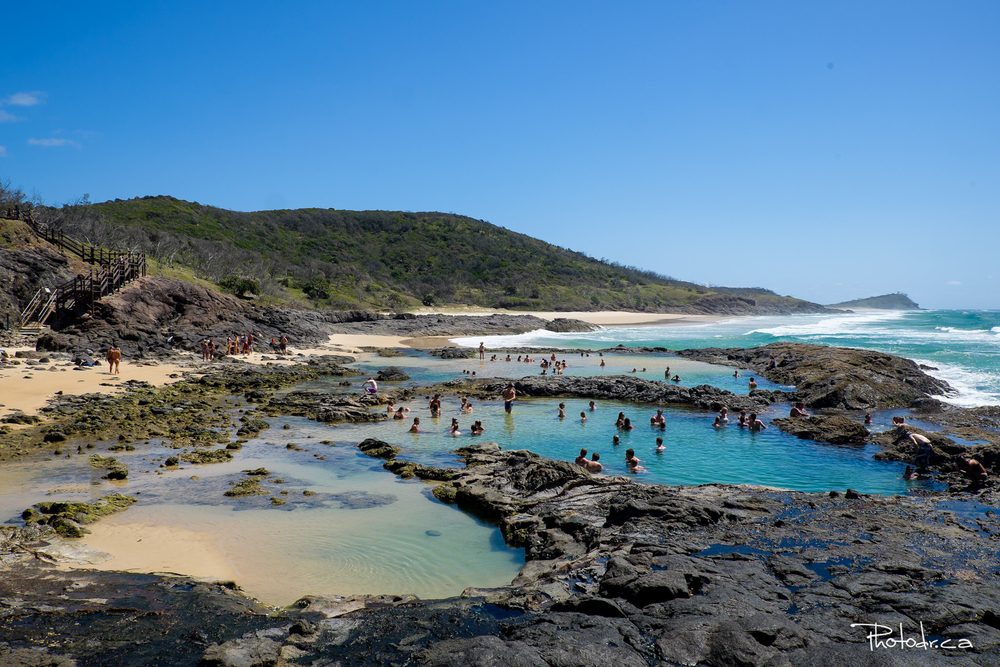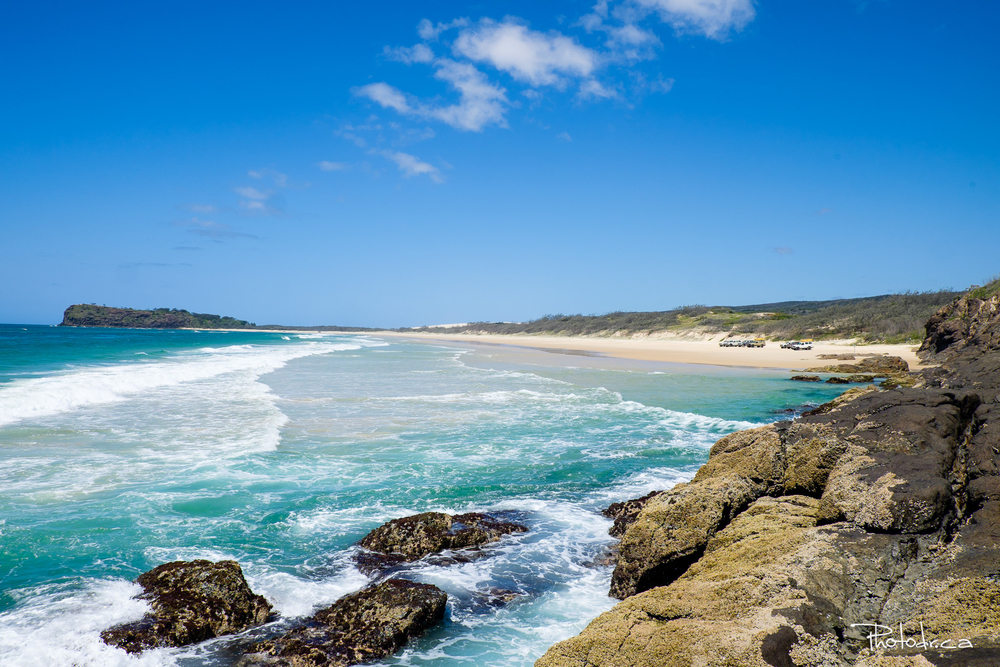 No trip to Fraser Island could be complete without seeing a dingo. Dingos are very close to dogs physic wise, but be aware, they are dangerous. As with lots of things in Australia, they can kill you. They are very intelligent and even if they look really cute, they are dangerous. We are advised to never go out alone at night due to that very reason. The more we are, the safer it is. I'm really glad I got to see one!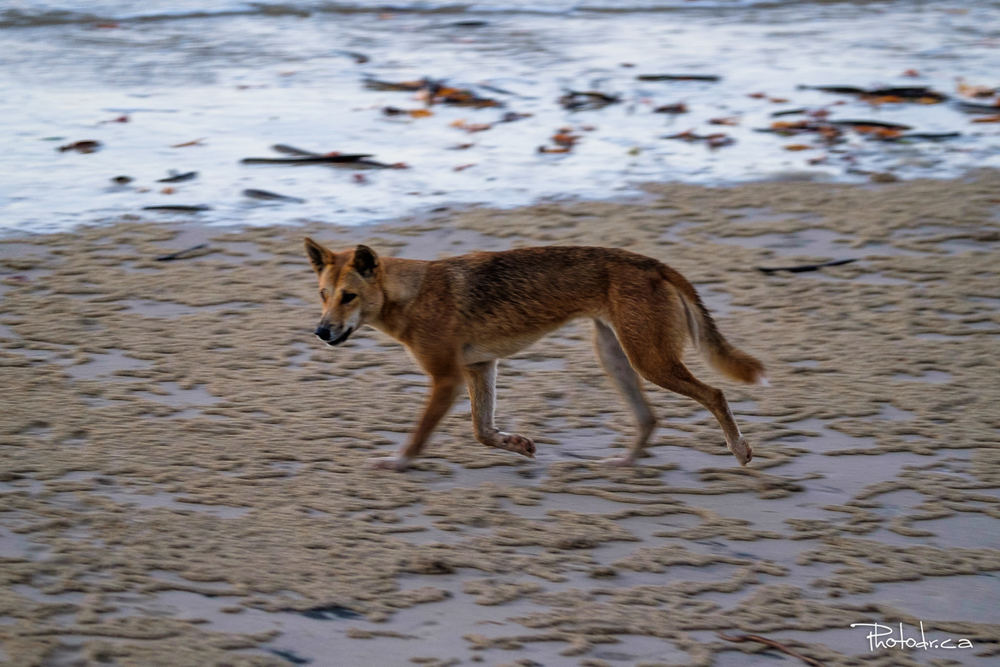 We finished our day at the pool. It was incredibly hot and we did not feel like going on walks over sand blows, swimming was a much more appealing option. Gopro selfies and a lot of fun!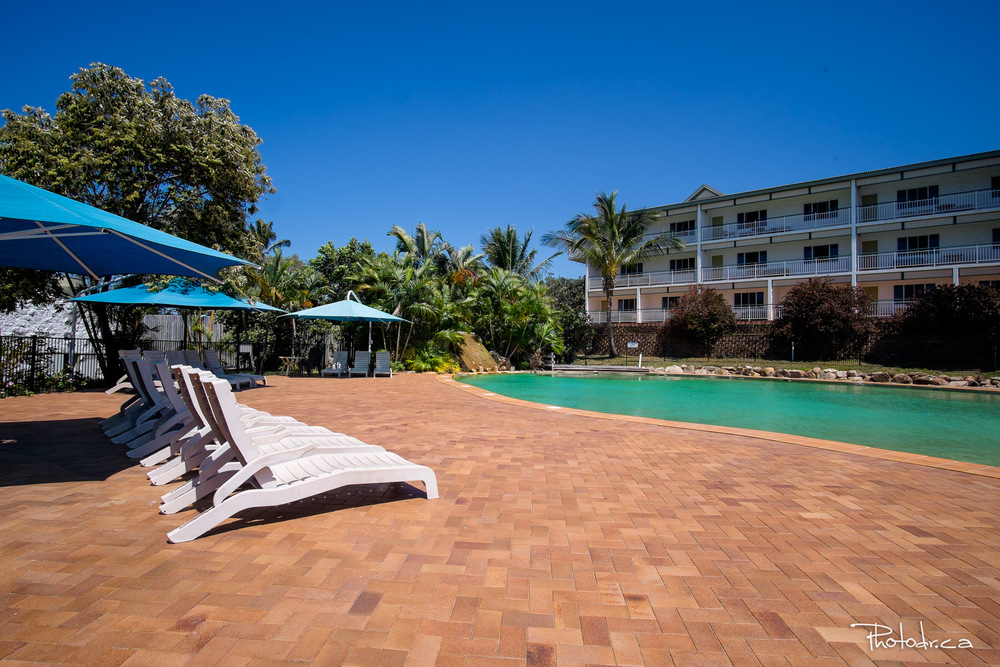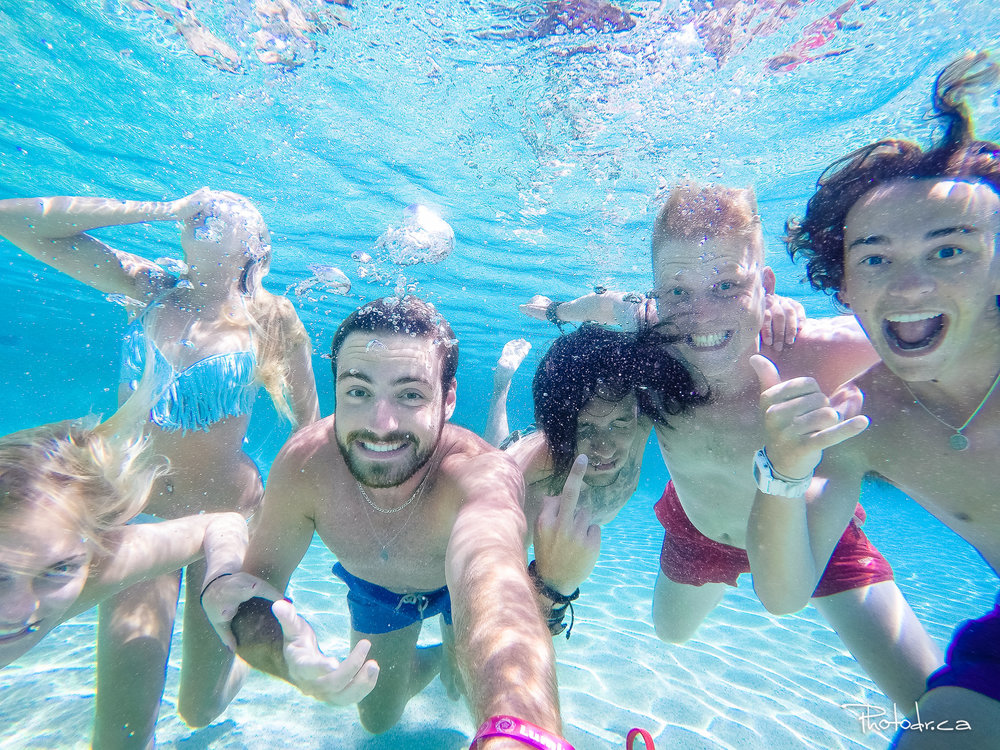 Another trip done, time to say goodbye to new friends! While travelling you do meet a whole lot of new friends, but that means a whole lot of goodbyes as well. We meet, have fun for a couple of days, then separate out different ways. No need to be sad because you'll meet new people very soon!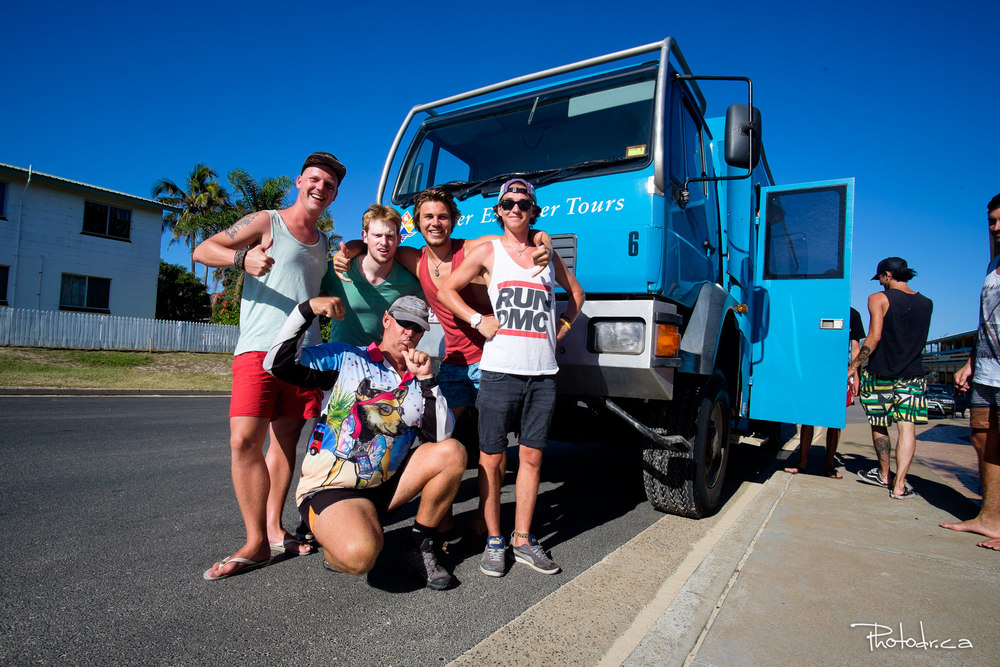 So, that is all for this week's entry! I am still very busy here, I've done a lot of awesome tours after those and I can't wait to show them all to you. Stay tuned, the next article is coming in soon! Small preview? 🙂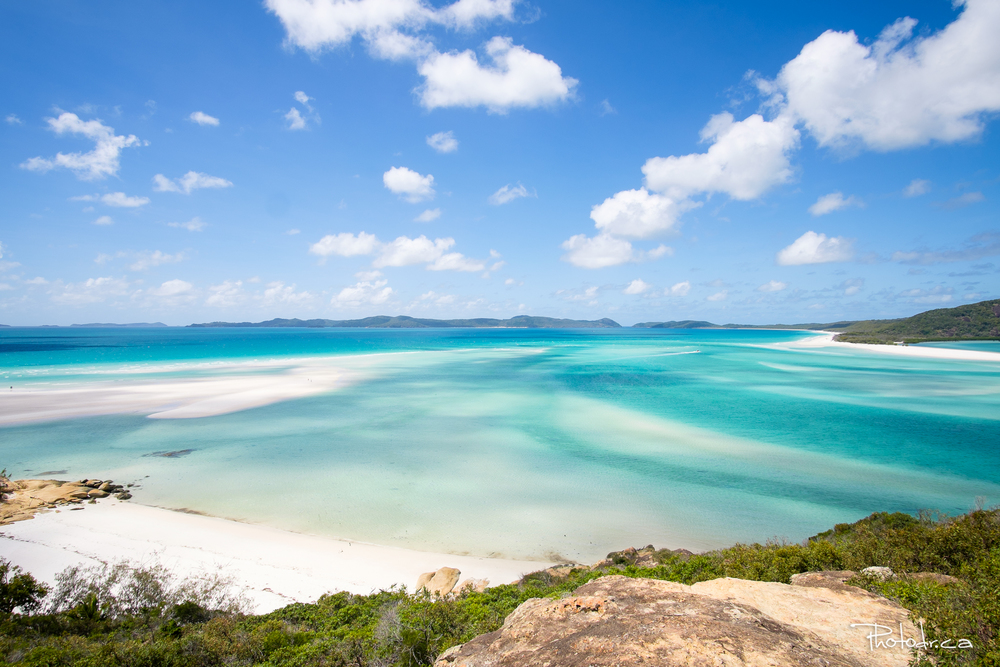 Articles que vous pourriez aimez: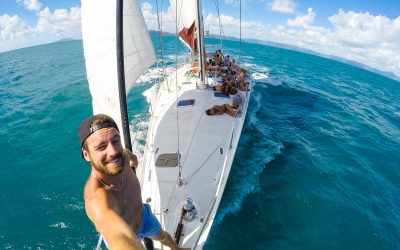 Has travelling around Australia always been a dream of yours? Have you made it all the way down there and now you're wondering where to start, where to stop and what to see? I found myself in the same situation a couple of weeks ago. I settled on what I think is, the best offer available for travellers. Have a read to learn it all!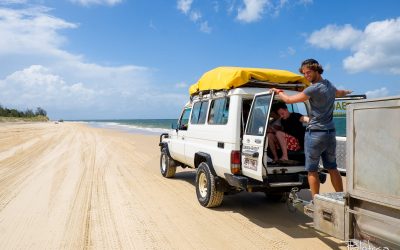 Whether you are travelling all over Australia or simply doing the east coast, Fraser Island is a must do. I went on a 4×4 camping trip for tree days/two nights booked through Fraser Island Travel, let me show you how awesome it was.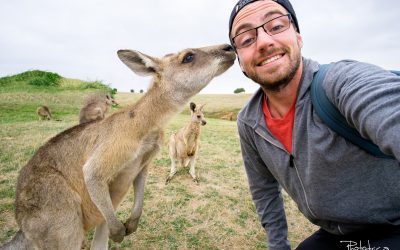 Depuis mon dernier article, j'ai quitté Melbourne, fait mon chemin jusque sur la côte est du pays, puis je me suis dirigé vers le Nord jusqu'à Rainbow Beach. Ca aura prit près de 24 heures de transport et plus ou moins 2000 km. Comme les distances sont énormes et que...